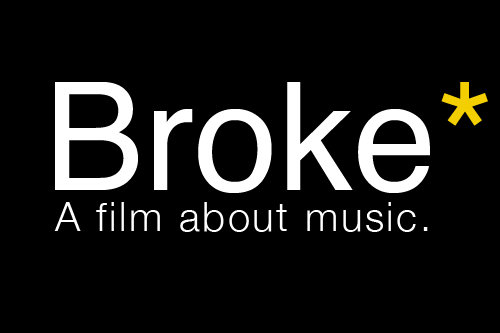 Is it possible for an independent singer-songwriter or band to "break" — to become successful in today's music industry, amidst file sharing, illegal downloads, and free streaming options like Spotify and YouTube? That's the question posed by the new, award winning Broke*, which also provides answers from many artists (undiscovered, famous and in-between) as well as marketers, industry professionals and fans of music.
Broke* follows artist Will Gray, who directed the film, as he journeys through the recording process of his first record. If you love music, you should see it. If you have any aspirations of breaking as a musician yourself, you should see it. I'll tell you how to do that locally in a minute, but first, learn a bit more about the film, from Will Gray himself. Then, run to the Broke* website for more previews and deleted scenes, a cast list, and more.
Bobby Gilles: Your own road as an independent artist has taken you to a contract with Warner/Chappell Publishing, a debut produced by T Bone Burnett and songs licensed by the likes of MTV, Ford and Sony Playstation. Would you say that Broke* is your statement of "Here's what I learned along the way"?
Will Gray: Not exactly…
Broke* is more a "let's do this together" statement. My story is individual, but not overly unique. Most working musicians have all shared in similar narratives, with different characters. It was my hope in making the film to spark a dialogue. I needed to know if I were the only person wondering about the future of music, and wanted to know if the idea or concept of "breaking" still existed. I felt someone's story about their day-to-day existence with the business of music needed to be told.
Bobby Gilles: Newsday Magazine's Glenn Gamba wrote "When you see Gray deliver his own eclectic songs – and especially his moving version of Patty Griffin's "Top of the World" – while still getting the runaround from label reps and promoters and venue owners, it's a painful reminder about how hard artists have to work simply to get heard." What do you say to the artist who says "Why should I have to do a bunch of 'business work'? I just want to do my art"?

Will Gray: I would say, that you don't have to do a bunch of business work. You can choose to make music for your family and friends, or even loft out songs with no expectations. It all depends on what you're trying to accomplish with your music. If you want your music or art to be self-sustainable and to provide the finances you need to live, then unfortunately, you will have to do more "business work" than you've ever imagined.
I think there are three categories of musicians. Those whom would like their art to sustain their lives, those who are hobbyists, and those who pursue their craft with truth and seriousness, but simply have no need or desire for their art to be in the pubic eye. I think that all three are worthwhile.
Bobby Gilles: In Broke*, you talk about forming a "team." What do you mean by "team," and why is it important for an independent artist? What about the image of the artist as a tortured loner?
Will Gray: I would define a team, as a group of highly skilled individuals who love and support you. I think teams are important in all areas of life. It hearkens to the cliched African proverb, "it takes a village…". It takes a village, to raise a child, make a record, go on tour, etc… I think life simply takes a village. For me, I have an amazing team of family and friends that help me actualize my dreams. This may not be true for everyone, but I often feel like if whatever I'm trying to create artistically can be done alone, it probably isn't worth doing.
Bobby Gilles: Besides showing the story of your own journey trying to "break" in the music business, this documentary includes interview footage from artists like Kelly Clarkson, Buddy Miller, John Legend and Isaac Slade of the Fray. One name that many musicians may not recognize is Seth Godin, who is neither a musician nor an executive in the music industry. What does the opinion of someone like Godin bring to the table?
Will Gray: Seth is invaluable to the film. He provides a poignant analysis and critique of the music industry. I wanted to interview Seth for the film because he has a way of simply cutting to the heart of an issue and pointing to the elephant in the room.
Bobby Gilles: You've also included interviews with executives from various parts of the music industry. How did you determine which kinds of perspectives to include?
Will Gray: I really wanted to take a pulse of the music industry, so we reached for every corner. We interviewed indie-artists, superstars, label executives, managers, songwriters, professors, lawyers, club owners, booking agents… and those were just the people that made the final edit!
I felt that if the film were to hold true, and not present a particular agenda, we had to have wide and varied perspectives. So, when you watch you'll hear various interviewees disagree with each other. The business needs that type of push and pull. We find answers in the tension.
Bobby Gilles: During the screening of Broke* here in Louisville on July 3, are you also going to perform for us?
Will Gray: Yes! I'm so fortunate to have my dear friend Reva Williams with me on this tour. She's an amazing writer/artist/performer that actually lives in KY.
She and I have a duet project together, and will be performing a few acoustic songs from that collection after the screening.
Bobby Gilles: Will you also take questions from the audience?
Will Gray: Yes, there will be a Q&A time after the screening. We love getting to share ideas with the people that come. This journey is always about exploration and discovery. What people don't know is that Reva and I will probably ask more questions that we'll answer
Bobby Gilles: It seems like you're not just trying to gain an audience for a documentary, you're starting a movement. In the end, what is the Broke* movement all about? How do people hop on board?
Will Gray: The Broke* movement was born out of deep struggle and endless hope. Everyone is fighting for a chance to "break" in something. We want to be better mothers, father, friends, husbands, wives, teachers, etc… So the Broke* movement is about helping each other reach those goals. We must all push and encourage each other in the pursuit of humble greatness. It's finding greatness in the small things. In direct relation to the film, we're encouraging to everyone to take ownership of the music and artists they love. The fact is, great art dies if it isn't nurtured. So, we must care for our artists if we want to live in a world with a high level of art.
It's been amazing to see the movement grow. I had a musician friend that was trying to go on tour, and they needed $2000 dollars. I put the word out to the Broke* community, and she had all of the money she needed in 24 hours. There's real power in the collective, and doing a small act of giving $5 here, or a meal there helps art stay alive.
Join us at Louisville's Sojourn Church Midtown Campus (930 Mary Street, 40204) on Tuesday, July 3, 2012 from 7-9:30pm for the Broke* screening, Q&A and live performance by Will Gray and Reva Williams. Tickets here.